Bethesda Office
My  office is located in Bethesda, Maryland on Wisconsin Avenue, two blocks south of NIH.
Address:
8218 Wisconsin Avenue
Suite P-10
Bethesda, Maryland 20814
Bethesda is my only office.  My phones are answered from 9:00 AM – 5:00 PM Monday through Friday, however I have appointments beginning at 8:00 AM. The last appointment of the day is at 4:00 PM.
Phone:
301-652-7061
Fax:
301-652-8529
Driving Directions:
My building (Bethesda Medical Building) is located on Wisconsin Avenue just south of NIH.
PARKING INSTRUCTIONS:

The best place to park is the Montgomery County Parking Garage located on Woodmont Avenue. Set your GPS to 8216 Woodmont Ave which is the physical address of the garage and that will give you the best route to the garage.
You will need to pay for parking BEFORE leaving the garage to come to your appointment. If you leave the garage without paying, there is a good chance parking enforcement will give you a ticket.
Once you find a parking space you will see a sign at the front of the parking space with a 4 digit number. REMEMBER THIS NUMBER!! If you have the ParkMobile App use this number when you enter the parking information on the app. If you don't have the ParkMobile app here is what you will do. As you are leaving the garage along the side wall by the staircase you will see a kiosk with self service stations where you will pay for your parking. Using your PARKING SPACE NUMBER, you will pay by credit card or dollar bills. The kiosk does not accept coins and does not give change.  I recommend you allow at least one hour for the appointment. Once you have, paid exit the garage and you will see the entrance to our building on Woodmont Ave. There is a light at this crosswalk with a button to push to change the light for walking. Additionally, there is limited street parking on Wisconsin Avenue from 9:30 AM to 3:30 PM.
*DO NOT PARK ON WISCONSIN AVENUE EVEN ONE MINUTE AFTER 3:30 PM OR YOUR CAR WILL BE TOWED.
METRO:
If you are riding the Metro my office is located on the Red Line, about a 15 minute walk from either the Medical Center Station or the Bethesda Station. For Bus or Metro routes, please call Metro at 202-637-7000 or visit the WMATA website. For Montgomery County Ride on Bus information, please call 311 (inside of Montgomery County, Maryland) or 240-777-7433 (outside of Montgomery County, Maryland) or visit the Montgomery County Department of Transportation website.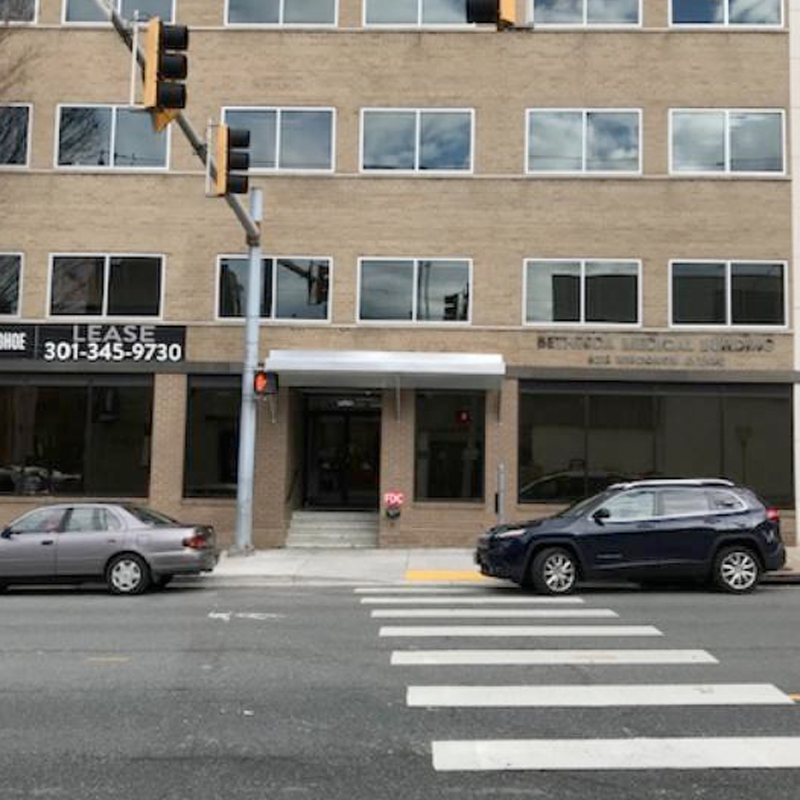 This photo shows the Woodmont entrance to my building.
This is a photo of parking kiosks
No Longer Seeing Patients in Washington DC Office
Since 1984 I have had an office in DC and have reluctantly decided not to see patients at my DC location after May 1 2020. It has been a pleasure and an honor to provide my services to you over the years.   I will continue to see patients at my primary office in Bethesda and I AM NOT RETIRING ANY TIME SOON! If Bethesda is convenient for you, I can continue your care at that location.
My primary goal is to ensure that you receive the best possible care. Over the years I have enjoyed working with my colleague, Dr. Andrew Adelson, and we have shared the same office since 1996. I know him to be an excellent and ethical ophthalmologist in addition to having a kind and gentle spirit.  He specializes in glaucoma surgery but also provides care for general ophthalmology patients. Those patients I have referred for cataract or glaucoma surgery have been very pleased with the results. In addition, Dr. Adelson and I currently share the office at 1155 21st ST NW Suite M400 which provides you the convenience of a familiar location and Dr. Adelson will continue his DC location. Should you be interested, Dr. Adelson would be pleased to provide you excellent care after May 1. Dr Adelson does not take any vision insurance such as Davis Vision or UnitedHealthcare vision insurance but he does participate with Medicare and Blue Cross Blue Shield among others. Dr Adelson can be reached at 202-496-9181.
If you need a copy of your medical records there are several options. If you make an appointment with another ophthalmologist/optometrist you can call our office and give us his or her fax number and we can fax your records.  If you want to pick your records up or have them mailed   please provide me with a written request addressed to the address below. In your request please specify whether you would like to receive the records via postal mail or pick up a copy yourself. I do not recommend email transmission because of the lack of security. If you want the records mailed there will be a $25.00 handling charge (the records will be sent priority mail so they can be tracked.) There is no charge if you want to pick them up in person at 8218 Wisconsin Ave. Suite P10, Bethesda, MD 20184 but you must call ahead of time to make an appointment to give us time to prepare the copies. Please bring a photo ID when you come to pick your records up.
Thank you for the privilege to care for your eyes. I wish you the very best.
Most sincerely,
George A. Patterson M.D.